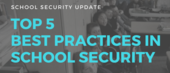 Top 5 Best Practices in School Security
Top 5 Best Practices in school security dictate that every school:
Review and update your emergency protocol annually

Train faculty and staff on the protocol every year

Conduct regular drills with both staff and students

Test equipment, especially internal communication equipment on a regular basis

Ensure that your school building is secure and lockdown-ready
A well-structured plan goes beyond baseline preparation to ensure that students, faculty and staff are fully prepared to respond calmly and effectively in an emergency.  In fact, a written plan is just one component of an effective security protocol.  Active preparation, regular review and training are imperative.  Adults and children alike feel safe and secure when they know what to do in an emergency.
At Bedrock Intelligence, a key feature of our work is to create a safety plan tailored to your building and school population. We provide the necessary training to ensure that faculty and staff are empowered to guide your school through an emergency.