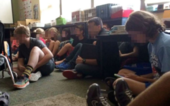 School Shooting Near Spokane, WA Underscores Need for Regular Lockdown Drills and Behavioral Threat Assessment
On September 13th, 2017 one student died and three others were injured in a shooting at Freeman High School near Spokane, WA.   The day before the shooting, students and staff had practiced a lockdown drill.
The Spokane sheriff says the shooter, a high school student, was stopped by a school employee who prevented an even greater tragedy.  The Associated Press reports that this school employee was a custodian.
It now appears that the shooter, identified as Caleb Sharpe, had posted videos to YouTube where he shot toy guns and pretended to shoot a friend, reports CBS News' Mireya Villarreal.
The Spokesman-Review reports that the suspect rode the school bus Wednesday morning.  Authorities report that he had both a pistol and rifle with him in a duffle bag.
15-year old sophomore student Michael Harper told the Associated Press that Sharpe was obsessed with past school shootings and had brought notes to school saying he might be jailed or killed and that some students had alerted counsellors.