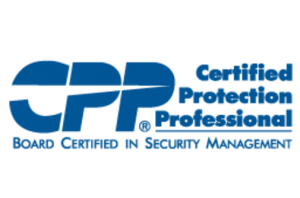 The partners of Bedrock Intelligence are proud to be Certified Protection Professionals, which demonstrates their mastery of core security principles and skills essential to the best practice of security management. Bedrock Intelligence is committed to excellence, professional growth, and a code of conduct.
The Certified Protection Professional (CPPⓇ) is considered the "gold standard" certification for security management professionals and demonstrates knowledge and competency in seven key domains of security. This certification is globally recognized as the standard of excellence for security management professionals.
The seven key domains of security management that are tested during the CPP evaluation process include: 1. Security Principles and Practices; 2. Business Principles and Practices; 3. Investigations; 4. Personnel Security; 5. Physical Security; 6. Information Security; and 7. Crisis Management.